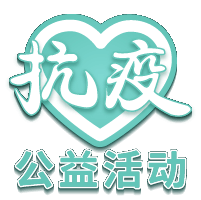 Charity Event to Combat Pandemic
Charity Event to Combat Pandemic
Malaysia has officially implemented the movement control order measure (MCO) since 18th March 2020. On 9th to 15th April 2020, Yippi has managed to collect 35,000 pieces of face mask. Apart from the 13,000 pieces of face mask raised by our live streamer and Yippi also contributed 22,000 through this campaign that will be donate to Malaysia frontline.
Fundraised through YippiTV Global Live Draw and Social Media post
From 9th to 15th April 2020, every new single Yippi download, Yippi will be donating one face mask to all the Malaysia frontline. Yippi have invited more than 50 guests to combat pandemic together with all Yippi user by live streaming in Yippi encouraging people to stay at home and maintain hygiene.
Thank you for your support
We would like to thank all participants for your enthusiastic responses for this campaign. We thank all users for your kind donations, and we would like to extend our most sincere thanks to you on behalf of Malaysian frontlines.
Live Streamer
NICKNAME
mieryap28
Joanne🍑
hanxiia**
Mika 巧仪 💋
Ribbon Ooi
s h i o r i 诗儿 🥑
lavel**
Gladi**
dudua**
loowailing
erenez**
Missjoycelow**
Crystal Swung💕
Ken Lim 肯林
Rainy_l**
wayne小唐哥
Henryteo**
zer00**
Collinst**
joey_l**
huichengl**
sherly 草莓冰沙
小伍madelyn
yeany 💙 Blue Rain 蓝天
jasonkimcho**
cindychewe**
mi2_henna
karinah**
sabrinathyye
jwjinw**
jyj**
Victoria_aikyen
mi2_yanice
Amilykim
ashleylim11**
jojo5**
JonathanLee
小厨娘 👩🏻‍🍳 Verine
Cassandrakok
gaga05**
Osakaoyuro
梦幻女孩🍭琪公主
Vivien恩恩 🎹🎵🎤
msjolint**
VALENT 婉婷🧚🏻‍♀️
annabellena**
janicegoh**
jazmi**
jowynch**
simonequeen3**
stellaa**
wanlita**
Henley许亮宇
Dylan 不是敌人
fedora5**
serene_sereni**
Sharron 波波茶
Verenelew
windlee**
yiiyiit**
agneslim08**
angelx**
恐龙妈咪313
Yumi 玉米🌽🚀
carolineyeo**
chansy_chan
katrlyn**
娜娜子🎀
shirleylee06**
肯肯
StephyYiw**
Yoyostrawberrychichi
Yumi**
Whitewhy歪歪
Generated by wpDataTables
| Mask Donor | Pcs |
| --- | --- |
| Kenneth | 1.500 |
| Roy.Hao | 400 |
| junhongste** | 150 |
| 👑金刚老师313👑 | 100 |
| 恐龙妈咪313 | 100 |
| reneeloh | 100 |
| jasonkimcho** | 100 |
| Kayden | 50 |
| 伟恒__77 | 50 |
| chiling007 🍓 | 50 |
| 格格 | 50 |
| jeffreytan30 | 50 |
| MXY_爱笑的女孩很幸运 | 50 |
| SinEeYeo | 50 |
| Florence🌹嬅嬅🌹 | 50 |
| jasonkimchoon's 小号 | 50 |
| CidahisCidah | 50 |
| Wind✨权权✨ | 50 |
| cje** | 50 |
| Charles Loo | 50 |
| 原味道 | 50 |
| miic** | 50 |
| huichengl** | 50 |
| lingchiongji** | 50 |
| Galaxy Thinker | 50 |
| maxp** | 50 |
Generated by wpDataTables